Hardscaping provides a multitude of options when selecting form, function, and visual appearance. Whether you are looking for uniformity and tight-fit or a more irregular, natural style, Happy Tree Ltd. is proficient in all hardscaping installations. Every hardscaping job is unique in its use, installation, and style. We look to best utilize your space and accessibility by incorporating all of your needs for your patio, walkways, steps, or walls
Naturally occurring stone is a specialty of ours in which we capture the natural, organic look and feel of boulders, quartzite, blue stone, and fieldstone. Our craftsmanship speaks volumes in our finished products as our clients are able to appreciate all of the hard work from design to installation. Incorporating natural stone into your landscape gives us the ability to offer year-long enjoyment by using accent boulders and walls that give you texture and color that don't fade with each passing season. Come visit our nursery to handpick your own boulders. We encourage our clients to add their presence to the project and lend their eye to our vision.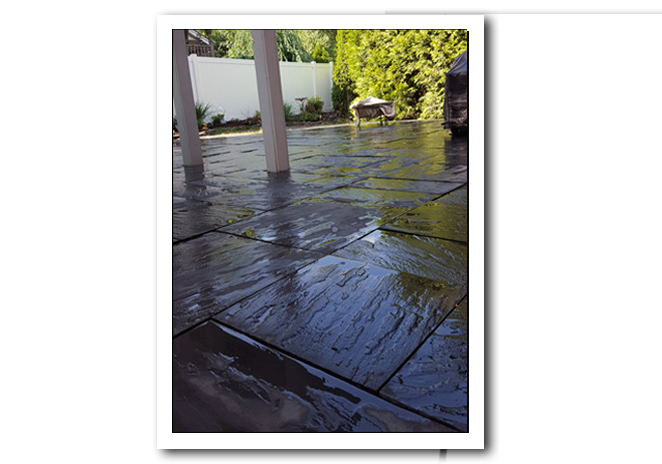 As concrete cracks or becomes weakened over time, we are often faced with designing and building new walkways, patios, and steps. We utilize the uniformity and tight-fit of pre-formed concrete (pavers) that come in a wide variety of colors, shapes, texture, and sizes. As a company recognized by our long-lasting projects, we staff certified installers that will plan and execute by strict standards regulated by ICPI (Interlocking Concrete Pavement Institute) and NCMA (National Concrete Masonry Association). Industry standards are constantly evolving; through continued education, we stay at the forefront in all of our projects and offer guarantees on all of our hardscaping projects. Please browse our portfolio of work as we look to showcase our talents and add comfort into your decision of choosing Happy Tree Ltd. for your next patio, walkway, fireplace, or wall installation.
Nothing matches the sound of cascading water over native boulders when creating your perfect outdoor living space. Happy Tree Ltd. utilizes natural materials in our aquascaping, such as decay resistant bald cypress and naturally occurring Montgomery County boulders, we strive to give you the natural look desired in every installation. Happy Tree Ltd. not only installs, but maintains water features to capture the look, sound, and ecosystem within your garden oasis. Upon request our landscape architect will design and help you choose your system, whether it's a maintenance-free pond-less waterfall, a moving stream, or a reflection pool.